Nowadays, everyone uses digital business cards like Kartee, and for a good reason – they're quicker, more convenient, and environmentally friendly! You've come to the correct site – Kartee, if you've heard about the Best Digital Business card but are still searching for definitions or explanations on Google. We have all the required details you need.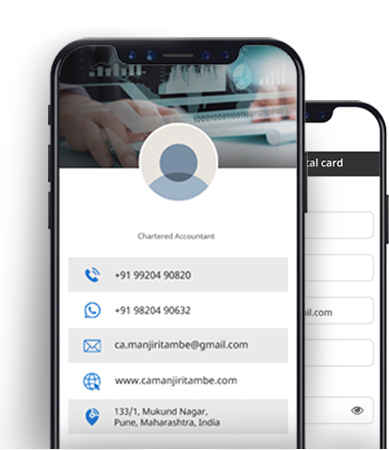 What is Digital Business Card?
A digital business card is the best option to stand out and leave a lasting impression truly. A digital business card is more than a digital replica of a real one. They are far more adaptable, allowing for fast changes, and may store various data in addition to your contact information, including files, embedded movies, photo galleries, and more.
Features of Digital Business Cards
Eco-Friendly
Because digital business cards are only computer files and don't require printing, they are environmentally friendly. Paper trash is a significant problem since it makes up 33% of municipal garbage and 25% of waste in landfills. Utilizing digital business cards will allow you to contribute to environmental preservation.
Using the best virtual business card is a terrific method to reduce your carbon footprint while still being able to share and exchange information while on the road if you're passionate about doing so.
Captures Leads Efficiently
You can share your digital card with anybody, wherever you are – at home, work, or on the go—as long as your smartphone or tablet is close by. It makes it simple to gather leads and monitor their sales progress.
Sharing leads with your team using digital business cards is also simple. For instance, the Kartee Teams platform enables you to effortlessly share leads with everyone in your firm after gathering leads from other team members.
Easy to Share
Most businesspeople attend conferences and meetings to exchange business cards and gather cards from potential clients. Simple to exchange digital business cards by email, social media, SMS, etc. Customers and members of your network may also easily share your card with others.
Attach Media
With the help of digital business cards, you may add media assets to your card and provide clients with more details about your company. You can include external links, sign-up forms, and movies.
Conclusion
Everything in the world is becoming digitized as we speak. People are contacted by us online. We conduct internet commerce and develop company brands online. We use our cell phones constantly. So why don't we have digital Sustainable Business Cards to connect with more people? Contact Kartee immediately and get your digital business card today.